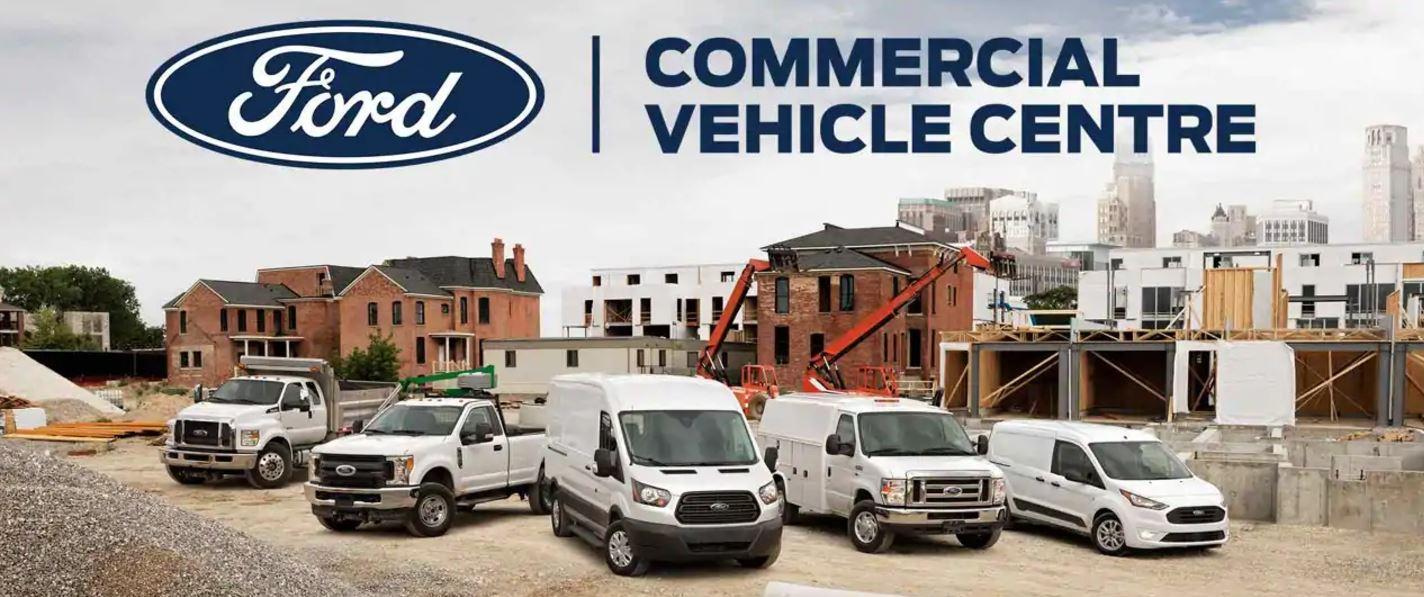 ---
Rainbow Ford is dedicated to providing you with the commercial products and services required to maximize the operation of your business!
We at Rainbow Ford are committed to adhering to a set of Commercial Vehicle Centre Standards that focus on your transportation requirements in this aspect of your business, including:
The body & equipment that you require in upfitting your vehicle to meet your business needs
The after sales service & repair processes to keep you on the road
The routine maintenance to maximize your vehicle operational time
The peace of mind vehicle service programs to help you save time and expenses
Our sales team at Rainbow Ford is all about listening to you regarding your vehicle requirements, identify areas where you can use assistance and work with you to resolve your concerns. To be successful in the operation of your business you want to know that you're working with people who understand and care, people who can advise you on the right solution. You deserve a Transportation Solution provider that works for your business; you deserve the services Rainbow Ford has to offer!
COMMERCIAL VEHICLES
What separates Rainbow Ford from other Commercial Vehicle Dealers?
Meet Our Financial Services & Fleet Manager, Barry Mcqueen!
Barry is the pivotal point of contact for servicing your needs.
Barry has excelled his career in the Automotive and Insurance Sales Industry. His vast experience and knowledge gives him a unique advantage.
Barry is qualified to not only assist his customers with their automotive needs but to also provide financing services and leasing rates! To streamline the process even more Barry has the Power of Attorney to provide Commercial Clients with Alberta Registries Services. Now that's convenience! Whether it is helpful advice or getting you the best rate, he will always go the extra mile!
Barry is dedicated to learning about your business, understanding your unique needs and acting in your best interest, always. Barry will be an important resource for you to draw on.
Prompt, Priority Service
Rainbow Ford recognizes the importance of servicing your vehicle quickly - and more importantly doing it right the first time. We understand that vehicle downtime costs you money.
Preventive Care 
We appreciate that you need to stay ahead of operational costs and we can assist you by scheduling your regular maintenance at convenient times as well as keeping you up to date on your vehicle inspection needs.
Comprehensive Service Plans
Controlling vehicle operation costs is a critical component in your business plan. Rainbow Ford will provide you with details about several Ford service plans that are designed to assist you in this aspect of your business. These Comprehensive Service Plans range from the Ford Maintenance Protection Plan (FMPP), to our DieselCARE Total Program and a variety of Extended Service Plans.
Outstanding Products
Ford of Canada delivers on its promise to offer a complete line-up of top quality vehicles - including the "built Ford tough" line of F-Series trucks, reliable E-Series vans, the versatile Transit Connect as well as special product options and accessories developed with the business operator in mind. You'll have the confidence of knowing each Ford vehicle is engineered to exacting standards of safety and performance.
This same attention is applied to the aftermarket body companies & modifiers that participate in our Body Pool and Ship-Thru modifier programs and are a critical source for satisfying unique upfit requirements we encounter daily.

---
Commercial Lease and Financing
Work smart with a customizable plan for your business.*
CommerciaLease is an open-ended lease program that allows flexibility to set the residual based upon business requirements.
Eligible vehicles
New/used
Cars through heavy duty trucks
Upfit vehicles
High kilometrage and heavy use vehicles
Ineligible vehicles
Vehicles used for livery (for hire) operations
Emergency, fire and ambulance
Rental units
Flexible terms
No acquisition or up-front administration
No kilometrage restrictions or penalties
No charges for excess wear and tear
Upfits can be residualized
Combined billing
Standard Terms and Residuals Guidelines
% Based On Final Net Capitalized Cost:
| | |
| --- | --- |
| 24 mos. | 50% |
| 36 mos. | 40% |
| 48 mos. | 30% |
| 60 mos. | 20% |
Lease-end Options
You have several options at the end of your CommerciaLease:
Contact us to:
Purchase or lease a new Ford vehicle and facilitate the trade in of your current CommerciaLease
Assist you with terminating your existing CommerciaLease account. You will need to schedule a vehicle return appointment with your originating Dealer.
Contact our Commercial Sales Consultant Barry toll free at 1-866-367-3810 for any other inquires.
Note: You are responsible for any deficiency between the balance owed and the selling price (including any costs incurred to sell the vehicle as agreed upon in your Master Lease Agreement).
Warranty and Service Products
It's smart that you keep up with your scheduled maintenance. What about unexpected repairs? Ford Extended Service Plan (ESP) helps protect you from the cost of any unforeseen events.
*Not all customers will qualify. See your Dealer for standard CommerciaLease customer and vehicle eligbility requirements. All program terms are subject to be changed, modified or removed at Ford Credit's sole discretion.
---